● SHOW GUIDE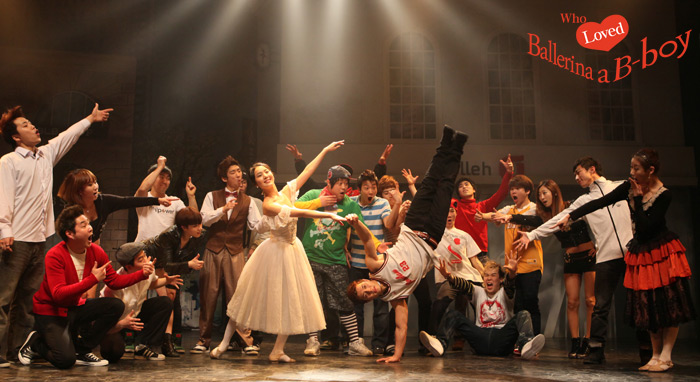 Date
December 9, 2005 ~ Open Run
Time
Mon~Fri 4pm, 8pm / Sat~Sun 3pm,6pm
Venue
1F Kyunghyang Art hill, 22 Jeong-dong, Jung-gu, Seoul
(Ballerina who Loved a B-boy Theatre, 327 seats)
Ticket Price
VIP60,000 (KRW) / R 50,000 (KRW)
Running Time
90minutes
Planner, Writer,
Director, Artistic Director
Yun-yeop Choi
Produced by
Showbom Inc.
Inquiries
82-2-6327-3727 / showbom@gmail.com
Official Website
www.showbom.com

A masterpiece that has fascinated over 2.5 million audiences from over 130 countries.
Selected by the 2007 Edinburgh Fringe Festival as the best among that year's 2,050 entries.
Performed 50 full-up shows on Broadway in 2008.
Selected as a showcase performance for the first ladies attending the G20 summit in Seoul.
Performed in New York, Beijing, Shanghai, Guam, Edinburgh, Osaka, Singapore, and Colombia.
Opened a 700-seat B-Boy performance hall in Beijing in 2012
Introduced in 2013 Korean middle school textbooks.
* Ticket Reservation Procedures (for foreigners only)
It is also possible via e-mail - showbom@gmail.com
Kindly refer to the following format
1.
NAME :
2.
NATIONALITY :
3.
CONTACT NO :
4.
SHOW THEATRE : (e.g SEOUL, DAEGU, DAEJEON)
5.
NO. OF ATTENDEES :
6.
SHOW SCHEDULE, TIME :
7.
TYPE OF SEAT : (PREMIUM/VIP/R)